OO Programming in Java
Class 9 Material
---

Traffic Lite Controller Problem

Object Model Skeleton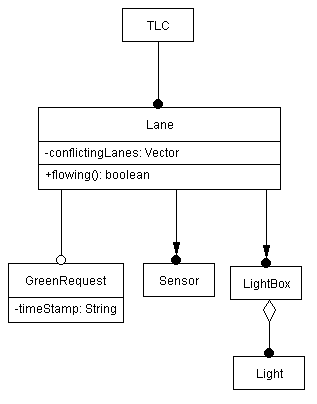 At initialization each lane is given a Vector of other lanes that conflict with it. Conflicting lanes are those that cannot flow while it is flowing.


For each heartbeat (about once every 2 seconds) Go thru all lanes and ...

Create Vector GReq of all lanes that have a GreenRequest. GreenRequests are generated when a 'sensor' is triggered during a stop condition.
Sort the Vector by time (so it's first come, first serve).
Create Vector GNext of all lanes that are currently flowing and are not due to be stopped.
Go thru the sorted GReq and add each of its members to GNext only if the member is not a member of the set of conflicting lanes of any member of GNext.
Go thru all lanes turning them 'green' if they are a member of the GNext group and 'red' if they are not a member of the GNext group.